I suppose I should preface this with a few disclaimers. Firstly, even when this was first posted and was relevant, it was incomplete. It always has been. I don't really have the time or the inclination to add the topics that would round it off. Secondly, reading it now (2011), I realise how horribly outdated this has become, as MSN has gone into decline, Facebook has all but taken over, smartphones now dictate how we type, etc. I'm leaving this as 16-year-old me wrote it though, for old-time's sake.
Instant Messaging – What it All Really Means
As computers and the Internet become virtually ubiquitous in the lives of western students, a method known as Instant Messaging has become de rigeur for communicating whilst at home and on the computer. However, it is not as simple as first meets the eye.
Instant messaging is supposed to be just that – instant. However, unlike a real life or even telephone conversation, where things are said as they come to mind and it is easy to read one another's expressions and tone of voice, instant messaging can actually be quite impersonal and even confusing for an unseasoned user.
This text aims to get into the heart of instant messaging, and expose exactly What It All Really Means.
Rules and Netiquette
For Instant Messaging is not just a mode of communication, like the telephone. It brings with it a whole new set of unwritten laws, standards, and phrases. This tangled mess of expected behaviour and new language can seem bewildering, but if you are to become a regular instant messaging user, you must be able to negotiate this seemingly uncharted labyrinth as if it were second nature.

"The Rules of Engagement"
The "rules" of instant messaging come into effect the moment a user signs on – at that moment, everyone who is using the instant messaging program and on the user's contact list instantly becomes aware of the new user's online status. The users already online are expected to initiate conversation with the new user at once, and the new user will keep a mental list of who does and who does not "say hello", as it were.
It is worth noting that in the world of instant messaging, any and every event has an interpretation, and any and every event will be interpreted in one way or another. This is called the "Interpretation Principle", and is fundamental to the rules of instant message communication.
Ergo, if after a set period of time, a user does not make contact with a user that has first signed on, the newly online user will interpret that event as "user x does not wish to talk to me". This is of course ultimately rude.
But, you may ask, surely the new user may initiate conversation with any users that are already online? The answer to that question is yes, but the reason that it does not happen is that it is the accepted practice to wait for a set period of time to elapse, to allow first contact, or lack thereof, before the new user begins talking to anyone else. The reason for this is again The Interpretation Principle. A new user initiating conversation with a user already online will be interpreted as that user being desperate for conversation, whether that is the case or not. Even if it were the case, appearing as such is highly undesirable, and so the practice of waiting and greeting is observed.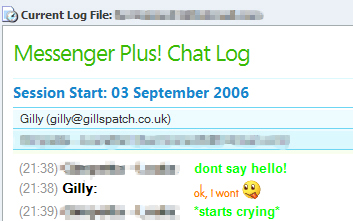 The "How are you?" ritual
After this initial period, when greetings have been said ("Hey" being the most common, as it is short, and gives the impression of cool, almost apathetic unfamiliarity that is desirable amongst instant messagers. Having said this, an over-zealous greeting such as "hiii!!!!", with repeated punctuation and vowels, is also popular), the "how are you?" ritual starts.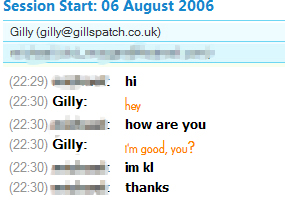 Aptly named, the "How are you?" ritual involves the two messagers asking how each other is. Although seemingly trivial, the ritual is one of the most important things in instant message etiquette, and failure to complete it is often interpreted as very bad manners indeed, and may well kill the conversation there and then. It is therefore performed at every opportunity, even when returning to the same conversation just minutes before the last ritual was performed.
The reason for this is perhaps because the mind of the instant messager is too lazy to think of another way to properly initiate conversation (although evidence suggests otherwise) or, more likely, down to the Interpretation Principle again. A non-existent or incomplete ritual can suggest that "User x is not interested in me", which, as you can imagine, has profound implications.
A commonly seen variation on "How are you?" is "What are you up to?" or "What are you doing?". This is really just a thinly veiled "How are you?", in that the person asking is very rarely actually interested in what the other person is doing, but merely does not wish to appear as if he or she is not interested in talking. It is classed as a variation not only because of the wording differences (the common reply is "Not a lot, you?") but also because it can be used mid-conversation as a subject changer or as a (admittedly lame) way to rekindle a conversation that has become "stale".

Expressing laughter
Many instant messaging conversations can be compared to real life conversations in that they can be viewed as several people trying their hardest to make the other members of the conversation laugh. Causing laughter is the ultimate aim of, I would estimate, the vast majority of instant messages sent, partly on the level of wishing to cause enjoyment/enjoy oneself, but also as successfully causing laughter is a sign of social acceptance and "coolness" that is constantly sought after.
However, as most instant message conversations are comprised solely of text, expressing laughter can present a problem. In solution to this, instant messagers have created a system of expressing laughter online. This system has a hierarchical structure, with certain spellings or abbreviations "ranking" higher than others, in order to express higher or lower magnitudes of laughter. The list below is not meant to be exhaustive: compiling such a list would be very difficult; it is merely a list of the most common expressions of laughter.
"Heh" "" The lowest pleb of expressions of laughter, this phonetic sound is equivalent to a smile and perhaps a slight forced exhalation through the nose in a real life conversation. Often more used as a polite acknowledgement of a joke than actual laughter at said joke.
"He he"/ "Heh heh" "" Really just a repetition of "heh", see above.
"lol" "" One of the most common expressions of laughter, this abbreviation has its roots in text language. Standing for "laughing out loud", this is the first "real" expression of laughter in instant messaging. However, it is used so often, in all forms of electronic communication, that it has lost most of its meaning, and so very rarely actually means that the person saying it is indeed laughing out loud. Its overuse meant its demotion in the ranks of expressions of laughter to its current status. The magnitude of laughter in an instant message conversation can also be expressed as the amount of effort needed to type the expression of laughter chosen "" as such, "lol" is a lowly expression because it only requires three key presses, and "l" and "o" are very close on a standard keyboard. Experienced and established instant messagers realise "lol""™s new lack of meaning, and therefore different expressions of laughter are now often favoured, further contributing to its downfall from being the "king" of expressions of laughter.
"Haha" "" Now superseding "lol" as the most commonly used expression of laughter, "haha" is merely a phonetically spelt version of its real life counterpart. However, because of its spelling, it can be very easily adapted to be a very versatile expression of laughter indeed.
"ROFL", "LMAO" and similar acronyms "" When used in sincerity, these are often the most powerful expressions of laughter, as they require more time and effort to type out. Adding seemingly unrelated words as suffixes is also common to boost magnitude "" "ROFLCOPTER" is a common one.
Expressions of laughter are also commonly modified to boost their magnitude:
Exclamation marks: As in regular English, exclamation marks boost the magnitude of the expression of laughter considerably. The more exclamation marks, the bigger the boost.
Repetition: "haha" is the classic example of an expression that can be repeated to form "hahaha"¦" ad nauseam. This again reflects its real life use: the more "ha"s, the longer the laughter.
Capital letters: Giving the impression of increased volume, capitals also vastly increase the magnitude of the expression they are placed upon.
Random letters: Sometimes, if an expression is particularly amusing, seemingly random letters can be inserted into the bog-standard "haha". Common examples include "hahafhghfh" or "hashshfhshg", becoming increasingly more incoherent. Note that this seems to have sprung up entirely in messenger, as attempting to repeat such expressions in spoken English will not have the desired results.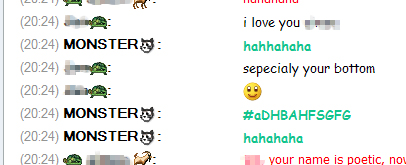 Farewell rituals
So much for expressing laughter, then. However, conversations are of course always finite, and when the end of a conversation looms in sight, it is only logical, given the arcane nature of greeting that we have already addressed, that there is a farewell ritual too. Thankfully, the typical farewell ritual is simpler than the greeting one, perhaps because by that time the participants are tired of each other"™s company and wish to bugger off as quickly as possible.
Saying such a thing, however, would be disastrous in terms of netiquette. No, as time passed, the idea of a farewell ritual naturally became more popular in the MSN "meme pool", and so the farewell ritual we see today evolved. You really can apply Darwin to everything.
However, it is not as straightforward as that. In MSN, remember, everything is subject to the interpretation principle. And of course there are things in the farewell ritual to be interpreted.
"x"sTaking a grand leap from greeting cards to instant messaging conversations, the "x" can now be doled out even more liberally than before. Dozens, lines, scores, armies of "x"s (sometimes even animated) can be seen flooding the window, causing delight (or dismay, as the case may be) to the recipient.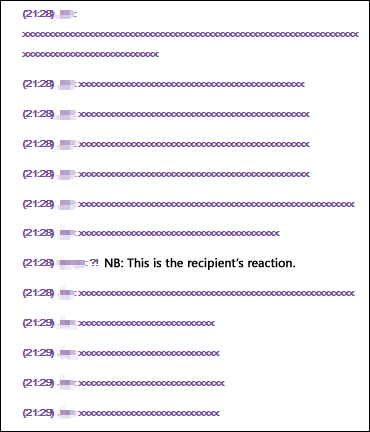 The word of farewell: By this I mean the obligatory "bye", "goodbye", "bye bye" or such like, which marks the end of the conversation. Extremely enlightened individuals can be seen to use such variations as "later" or "laters", but such examples are rare.
The excuse: Just saying "goodbye <liberal x placement>", however, is not good enough. Just as you cannot simply walk off when having a conversation in real life, you must give some explanation as to why you are leaving before you sign off on MSN. How satisfying the explanation is, however, depends on the MSN"™er involved.

One can class the average MSN"™er into three categories depending on their style of farewell.
The Fundamentalist: These interpret everything literally, and keep everything literal. As such, their "x" deployment is decidedly sparse, if at all existent, and typical excuses to leave include such enlightening statements such as "I g2g" ("I have to go") or "im off". This is followed by a simple word of farewell. The fundamentalist may or may not leave before the other person has had time to complete their side of the ritual, which makes them controversial people in the eyes of many.

The Conservative: The ever sketchy "middle ground" between the Fundamentalist and the Liberal (see below). This is a very wide category, but distinguishing features from the fundamentalist often include a worthwhile leaving excuse, as well as extending the ritual to more than one line of text. The conservative will also allow the other person to complete their side of the ritual. This leads to slightly more complex subtleties in their farewells, particularly in the deployment of "x"s. The conservative, befitting the name, will often be strategic in their "x" deployment. Because the other side of the ritual is completed with the conservative, often a "tit for tat" strategy is employed (like those found in nature), where the MSN"™er will give as many "x"s as he or she receives. There is often an upper limit set to this, as otherwise this strategy may become unstable when meeting a liberal.

Figure 6 A typical conservative farewell. Notice "tit for tat" in effect, and full ritual completion.
The Liberal: Liberals, are, well, liberal. With their "x" deployment, their variations on "bye", and even their susceptibility to forgetting that they even were supposed to be leaving in the first place. Although evolutionary history with regards to MSN conversation is sketchy (early fossil records are at best missing), it is very possible that the Liberal probably (and perhaps ironically, depending on how you look at it) drove the evolution of the farewell ritual and all of the other rituals associated with MSN culture. Opponents to this theory suggest that the conservative had a bigger part to play, as the Liberal is generally a forgiving person and so would not apply a great selection pressure on the evolution of the farewell ritual. Opponents to both theories suggest that MSN rituals are far too complex and must have been designed by the same almighty designers that designed MSN. Others say it really doesn"™t matter in any case, and spend their time thinking about more worthwhile things.
However, as on a Wikipedia trail, I am becoming sidetracked and largely incoherent. The important thing is that liberals are easy to recognise, but their defining features can be difficult to pin down. Just look for a load of "x"s, or the conversation going on for 20 minutes more than originally planned.

Conclusion
And so ends this, a difficult venture into the complex and sometimes intimidating virtual world of communication that is instant messaging. However, no matter how many sticky situations you find yourself in or webs of netiquette you find yourself entangled in, just remember these two rules:
The ":P" emoticon makes any statement acceptable.
Don't Panic! ;).