I had a genuine dilemma when sitting down to write this blog post. I've experienced another kind of toilet since the last post, and that seemed to be effective last time; but I don't want to be accused of a toilet fetish, and to be honest, relying on the same introduction is a bit lame. Not to mention slightly nauseating.
So, to great personal distress, I decided to omit my experiences with the commode (the English meaning, not the French), and instead just write without mentioning any more defecation.
I'd forgotten how crap chemotherapy feels. A few posts ago, I spoke of the surgeon guy going away this month, meaning I'd have the operation early and hopefully miss out one "VIDE" chemotherapy treatment. However, it seems I'd been slightly misled. Yes, the surgeon was going away this October, so I did have the operation early…but that didn't mean I got to miss that last chemo treatment. So instead of having 5 chemos, surgery, then moving on to the next stage in the treatment, it was 5 chemos, surgery, then another chemo for good measure before moving on.
If you didn't quite get all that, it's not that important, it just means that just under 2 weeks after I had surgery (when I wrote the last post), I was knocked down (pretty literally) with the worst course of chemo I've had so far, which I wasn't really expecting. It just sucks really, because at least pre-surgery I could walk around without limping, but it seems that the only advantage that the chemo held has been taken away.
Anyway, I'm not going to get all down and angsty, but I will show you a couple of photos that you might find interesting: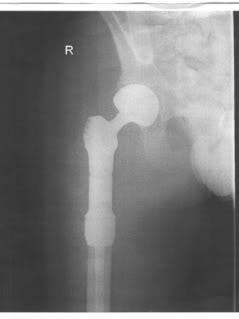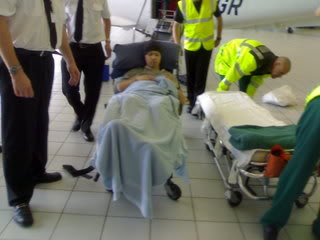 It was a surreal experience, coming back. From NHS food and chemo, I was ushered onto a private plane (I shit you not), put into an ambulance, went into the PEH for a blood transfusion (where I had a fillet steak, no less), then came home, where I am currently typing this. It was like being transferred from St. Margaret's Lodge to The Ritz. This has been full of completely surreal experiences from start to (I'd like to say finish, but I can't) now.
The good news is that the report that came back from the bit of bone they removed said they found that "over 90%" of the tumour had been killed by the chemo, so I guess all the crap was worth it. It also means that I get to go onto a slightly less toxic form of chemo from now on, and one that hopefully won't aggravate my epilepsy as much (which is the last thing you want with a dodgy hip).
Meanwhile, my parents have been awesome, converting our spare room into a hospital-like room, raiding St. John's even to get stuff like a bed that raises up and down so I can get in and out more easily. It's pretty damn cool, I must say, but it's too tempting to play with it than actually do stuff I'm supposed to be doing.
Talking of stuff I should be doing, there's a pile of textbooks a good few inches thick that the college have been kind enough to provide me with. When I get bored, I can always turn to "Structure, Bonding and Main Group Chemistry" to occupy my time >_<. A couple of you have sent me emails, which is great =D. Otherwise, I got something like 7 comments in 4 days on the last post, which "experienced bloggers" would sneer down at, but it made me happy =].